Voici la page que j'ai réalisée pour le 1er sketch d'Avril #143 par Bev Code sur Sketches In Thyme.
Pour gagner il vous suffit de suivre notre blog et de jouer avec nous!
Il y a un gagnant choisi aléatoirement par random.org et un Top 3 chaque mois.
Il y aura un lien différent pour chaque semaine.
Le lien de la 1ère semaine se trouve en haut à droite de la barre latérale.
Vous avez jusqu'au 30 avril pour entrer le lien de votre challenge.
N'oubliez pas de passer le mot!
This is my page for the 1st April Sketch #143 by Bev Code @Sketches In Thyme.
All you have to do to be eligible to win is follow our blog and play along!
We will have one random winner chosen by random.org and Top 3 for each month!
There will be a separate link for each week.
April week 1 link is posted to the right on the top of the sidebar.
You will have until April 30 to enter a link for this challenge!
Don't forget to spread the word!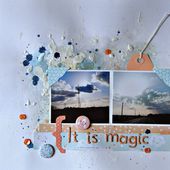 Sketches In Thyme: Marie's Take on Sketch #143
Welcome to Day 3 of our kick off week! Sketch #143 by our Senior Sketch Designer, Bev Code brings you this fantastic inspiration. Challenge yourself to actually put some paint on your page... ;) The
http://sketchesinthyme.blogspot.be/2015/04/maries-take-on-sketch-143.html