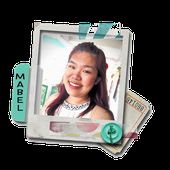 Let's Get Sketchy: Design Team Reveal-Welcome!!
First let me say THANK YOU to all of you wonderful ladies who applied to be a member of the LGS Design Team. I will tell you, I had a hard time narrowing it down to a few select members. Because the
http://letsgetsketchy.blogspot.be/2015/04/design-team-reveal-welcome.html
Je fais partie de l'équipe créatrice de Let's Get Sketchy!!!!
Je suis très heureuse de faire partie de cette formidable équipe composée de talentueuses scrappeuses de partout dans le monde!!!!
Je remercie encore particulièrement Brenshevia pour cette opportunité!!! :-)))
I am part of Let's Get Sketchy Design Team!!!!
I am very happy to be part of this great team with all those talented women from all over the world!!!!
Thank you again to Brenshevia for this opportunity!!! :-)))