This is my page for April Sketch #145 by Shawn Lahr
for Sketches In Thyme.
It was a great sketch!
The pictures are about the Doves release at our wedding.
This is something I really wanted and I am glad we did it because it was
beautiful & symbolic.
You will have until April 30 to link up to all 4 of your challenges!
All you have to do to win is follow our blog and play along!
Each week you enter, is another chance you have at winning!!!!
All challenge links are located to the right.
Happy Scrapping!
Voici ma page pour le Sketch d'Avril #145 de Shawn Lahr pour Sketches In Thyme.
J'ai adoré le sketch!
Ce sont des photos du lâcher de colombes à notre mariage.
C'est quelque chose qui me tenait à coeur et je suis contente de l'avoir fait car c'était magnifique & symbolique.
Vous avez jusqu'au 30 Avril pour entrer vos participations aux 4 challenges!
Tout ce que vous devez faire pour gagner c'est suivre notre blog et jouer avec
nous!
Chaque fois que vous participez, vous avez une chance de plus de gagner!!!!
Tous les liens des challenges sont situés à droite.
Bon Scrap!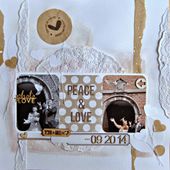 Sketches In Thyme: Bonus Edition for Sketch #145...
Link Ups for week 1 and 2 are located directly below week 3. Our Maven's are so fabulous.....so much so, that we have TWO bonus features to share with you. and don't forget, our April prize..... You
http://sketchesinthyme.blogspot.be/2015/04/bonus-edition-for-sketch-145.html