This is my 1st page featuring the scrapbook kit 'Real Life', the Patterned Paper Add On '24/7' & the DITL kit from Cocoa Daisy.
I made a little video showing the evelution of my page.
I love this photo about Max that I took last month.
I was taking pictures about Lilou while she was playing, he came in front of my camera and posed because he was so jaleous.
No man can approach me not even my son or my husband, Max come in the middle and makes me a scene or cry. lol
Voici ma 1ère page présentant le kit de scrap 'Real Life', le kit de papiers Add On '24/7' et le kit DITL de Cocoa Daisy.
J'ai réalisé une petite vidéo montrant l'évolution de ma page.
J'adore cette photo de Max prise le mois dernier.
Alors que je prenais des photos de Lilou en train de jouer, il est arrivé devant mon objectif et s'est mis à poser tellement il était jaloux.
Aucun homme ne peut m'approcher ni même mon fils ou mon mari, Max se met au milieu et me fait une scène ou pleure. lol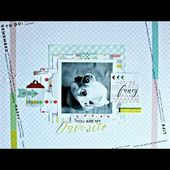 Cocoa Daisy 'You are my favorite' mini process video
This is my 1st layout featuring the April 2017 'Real Life' Scrapbook Kit, '24/7' Patterned Paper & Add On, DITL kit from Cocoa Daisy. Voici ma 1ere page présentant le kit de Scrap ' Real Life', le...