This is my take on sketch #146 @Sketches In Thyme.
The sketch is by Brenda Ragsdale.
You will have until April 30 to link up to all 4 of your challenges!
All you have to do to win is follow our blog and play along!
Each week you enter, is another chance you have at winning!!!!
All challenge links are located to the right.
Happy Scrapping!
Voici ma page pour le sketch #146 @Sketches In Thyme.
Le sketch est de Brenda Ragsdale.
Vous avez jusqu'au 30 Avril pour entrer vos participations aux 4 challenges!
Tout ce que vous devez faire pour gagner c'est suivre notre blog et jouer avec
nous!
Chaque fois que vous participez, vous avez une chance de plus de gagner!!!!
Tous les liens des challenges sont situés à droite.
Bon Scrap!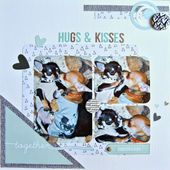 Sketches In Thyme: Marie's Take on Sketch #146...
Link Ups for Weeks 1, 2, and 3 are located directly below Week 4. Today, we share with you..... and our April prize..... You will have until April 30 to link up to all 4 of your challenges! All you
http://sketchesinthyme.blogspot.be/2015/04/maries-take-on-sketch-146.html