Welcome to the Spiegelmom Scraps 'Get to Know Your Sparklers' May 1st Blog Hop.
You should have come from Lisa's blog http://pinkglitterscrapper.blogspot.be/
If you are just starting the hop you can go back to the
Spiegelmom Scraps site http://spiegelmomscraps.com/ to start at the beginning.
Here is a little about me:
I am Marie, I will be 41 in 3 days and I live in Belgium. I discovered scrap when my son was born in 2001.
At the time scrap didn't exist in Europe. I was lucky at the time to have an APO address so I ordered all the material from the USA. In 2009/2010 scrap became very popular in Europe. In 2011 I had to stop scrapping because of my work until the end of 2014. Since then I have never stopped again and I don't think I could because it is my way to express myself and to empty my mind.
Since 2015, I am and was lucky to be part of different DT's which gave me the chance to meet friends with who I maintain great friendships.all around this common passion. I was also able to experiment, create and discover products, collections and techniques that I would probably not have chosen myself or imagined that I could like.
I am so happy to start this new adventure with Jody and the ladies from the Spiegelmom Scraps team! The products are just gorgeous!
I create mainly pages, project life spreads, pocket letters and some planner but I am planning on creating more mixed media projects and cards.
I will be part of the Instagram Squad so I will publish mainly on Instagram, my blog, facebook and I will try to publish some videos from time to time on my channel.
I chose to present you a page I created with the Cocoa Daisy kits from April 2017 because they had sequins from Spiegel Mom Scraps. It was the 2nd time we had sequins from Spiegelmom Scraps in our kits and I loved them both times! It was also how I discovered the products.
Bienvenue sur le Blog Hop 'Get to know your sparklers' de Spiegelmom Scraps.
Vous devez certainement venir du blog de Lisa
http://pinkglitterscrappeor r.blogspot.com/...
Si vous commence le hop, il vous suffit de vous rendre sur le site de Spiegelmom Scraps http://spiegelmomscraps.com/ pour commencer au début.
Un petit peu sur moi:
Je m'appelle Marie, je vais avoir 41 ans dans 3 jours et j'habite en Belgique. J'ai découvert le scrap lorsque mon fils Tristan est né en 2001.
A cette époque le scrap était inexistant en Europe. J'ai eu la chance à l'époque d'avoir un adresse APO et j'ai donc fait venir tout le matériel des USA. En 2009/2010 le scrap a vraiment commencé à se développer en Europe. En 2011 j'ai dû arrêter le scrap à cause de mon travail jusqu'à la fin de l'année 2014. Ensuite je n'ai plus jamais arrêté et je pense que je ne pourrais plus car ça me permet de m'exprimer et de me vider la tête.
Depuis 2015, j'ai eu et j'ai la chance de faire partie de différentes DT qui m'ont permis de me faire des copines avec qui j'entretiens de chouettes amitiés tout ça autour de cette passion commune. J'ai aussi pu expérimenter, créer et découvrir des produits, collections, techniques que je n'aurais pas choisi moi-même ou imaginer que je pouvais aimer.
Je suis vraiment très heureuse de commencer cette aventure avec Jody et les filles de Spiegelmom Scraps! Les produits sont juste magnifiques!
Je crée principalement des pages, des pages de project life, des pocket letters, un peu de planner et je compte créer un peu plus de mix media et de cartes. Je ferai partie de l'équipe Instagram donc je publierai principalement sur Instagram, mon blog, facebook mais j'essaierai de publier des vidéos de temps en temps sur ma chaîne.
J'ai choisi de vous présenter une page que j'avais créé avec les kits du mois de mars 2017 de Cocoa Daisy car ils contenaient des sequins de Spiegelmom Scraps. C'était la 2ème fois qu'on avait des sequins de Spiegelmom Scraps dans les kits et je les ai adoré les 2 fois! C'est comme ça aussi que j'ai découvert les produits.
Here is my page/Voici ma page: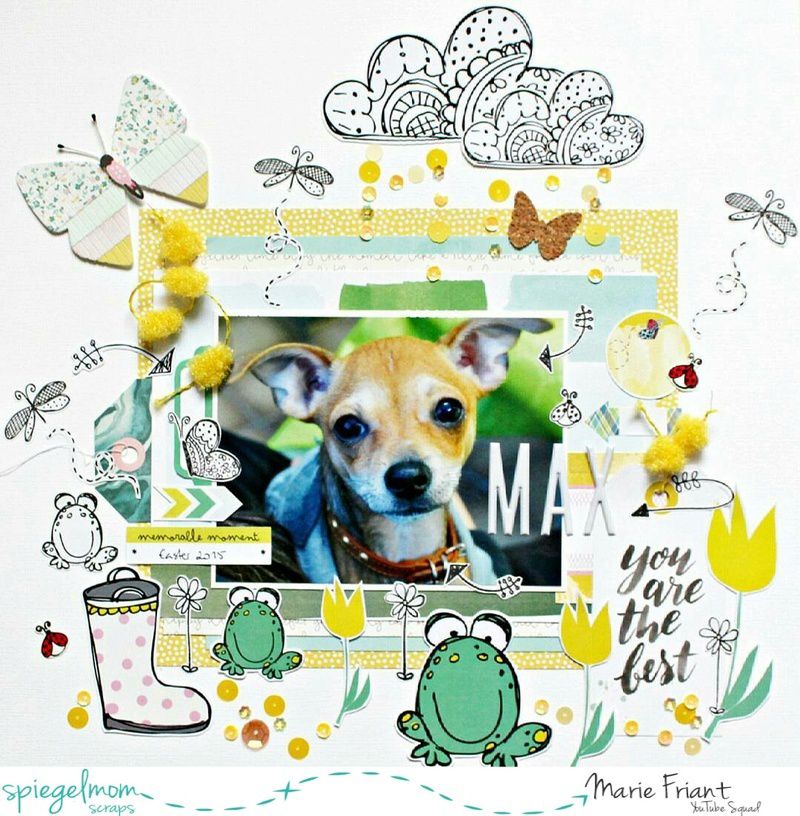 Don't forget, there is a chance to win a $20 credit to the store.
All you need to do is comment on all of blogs involved in the hop.
Use the code MARIE15 to save 15% on your order.
N'oubliez pas qu'il y a une chance de remporter un bon de 20$ à valoir dans la boutique.
Tout ce que vous devez faire c'est de commenter tous les blogs participants au ho.
Utilisez le code MARIE15 pour obtenir une réduction de 15% sur votre commande.