Hello Everyone,
Welcome to June and welcome to a new Scrap Africa Mood Board Challenge!
This page is my farewell to 2 of my puppies.
I was preparing myself to leave them and it wasn't easy at all.
It was like someone teared off my heart though since the beginning I knew we couldn't keep them all because 5 dogs, even tiny, in an apartment is not possible and I couldn't take care of 3 babies at the same time.
Not spending enough time with each of them was not conceivable for me because those dogs need so much attention and a strict education since the beginning.
I was torned apart but hyper happy at the same time because my wishes came true, I found the right people or intead the right people found the puppies... very strange feelings.
The female left on Saturday to go to Arlon close to Luxembourg which is at about 3 hours from here.
Her owner is an adorable young man who sends me photos, videos, messages every day and who invited us to go see her when we will be in their area.
The male left on Monday, we drove him to Brussels because his owners, 2 young sisters couldn't come to take him home because of the extended train strikes.
We are staying in contact too.
They also sent me videos.
I am so happy and grateful to have found such nice people to take care of the puppies.
Fortunately, we are keeping 1 puppy... the smallest female (she is 760 grammes, the 2 others were almost 1 kg).
She is so cute!!!! :-)))
Bonjour à toutes,
Bienvenue en Juin et Bienvenue au nouveau Challenge Tableau D'Humeur de Scrap Africa!
Cette page est mon adieu à deux de mes chiots.
J'étais en train de me préparer à les quitter et ça n'a vraiment pas été facile.
C'est comme si on m'avait arraché le coeur pourtant depuis le début je savais qu'on ne pouvait pas tous les garder car 5 chiens, même minuscules en appartement, ça n'est pas possible de plus je n'arrivais pas à m'occuper de 3 bébés en même temps et ne pas passer le temps nécéssaire avec chacun n'était pas envisagable pour moi car ce sont des chiens qui ont besoin d'énormément d'attention et d'une éducation stricte dès le début.
J'étais déchirée mais hyper heureuse en même temps car mes souhaits se réalisaient, j'ai trouvé les bonnes personnes ou plutôt les bonnes personnes ont trouvé mes chiots...vraiment étrange comme sentiments.
La femelle est partie ce samedi à Arlon près du Luxembourg, à presque 3h de chez nous.
Son propriétaire, un jeune homme est vraiment adorable.
Il m'envoie des photos, vidéos, messages tous les jours et nous sommes invités à aller la voir quand nous serons de passage dans leur région.
Le mâle lui est parti ce lundi, nous avons été le conduire à Bruxelles car ses propriétaires, 2 jeunes soeurs n'ont pu se déplacer à cause des grèves trains prolongées.
Pour lui, idem, nous restons en contact.
Elles m'ont aussi envoyé des vidéos.
Je suis très heureuse et reconnaissante d'être tombée sur des personnes aussi gentilles qui vont très bien s'occuper des chiots.
Fort heureusement, nous avons gardé un chiot...la plus petite femelle (elle pèse 760 grammes alors que les 2 autres font déjà presqu'1 kg).
Elle est trop mignonne!!! :-)))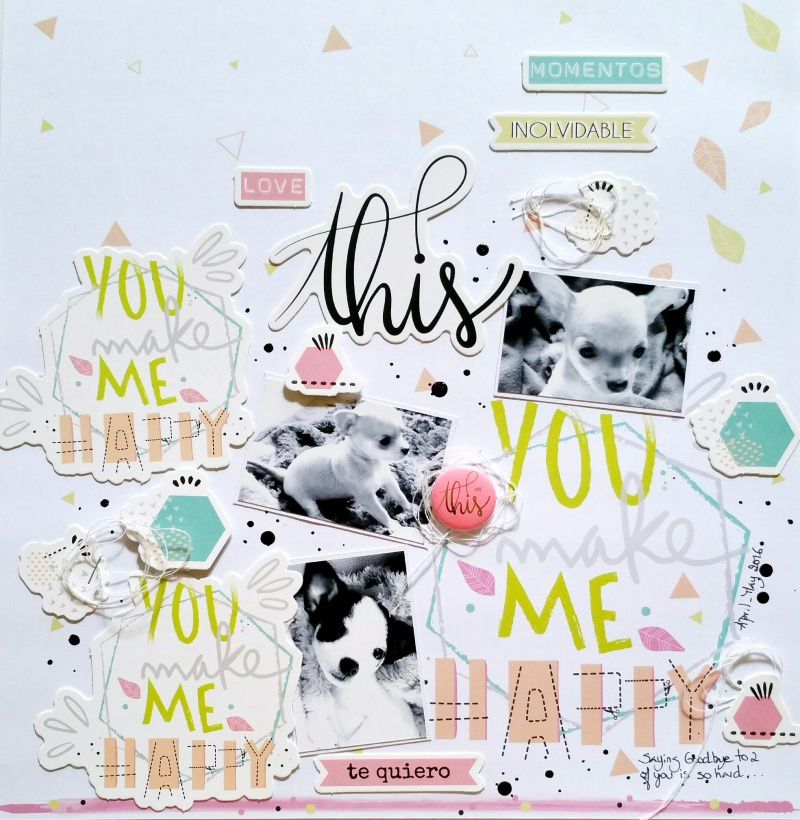 Scrap Africa: Scrap Africa Mood Board Challenge no.75
You can create a card, tag, layout, an altered project, journal pages or even a digital project! You can create whatever you like! ;-) We would just love to know what inspired you from the mood ...
http://scrapafrica.blogspot.be/2016/06/scrap-africa-mood-board-challenge-no75.html
For some inspiration too...there are also 2 random prizes up for grabs.
2 x R300 BoBunny surprise parcel up for grabs.
Il y a 2 prix à remporter: 2 x R300 BoBunny paquets surprise à gagner.
You have until 30 June to upload your projects! ;-)
Vous avez jusqu'au 30 Juin pour entrer vos projets! ;-)
I used the 'So Beautiful' collection by Gigi et Moi
that I ordered directly from the site and that I received with
my May 2016 monthly kit SKC
J'ai utilisé la collection 'So Beautiful' de Gigi et Moi
que j'ai commandé directement sur le site et que j'ai reçu avec
mon kit mensuel SKC du mois de Mai 2016.